Wider Opportunities
At St Bernadette's, we provide and encourage pupils to participate in a range of wider opportunities such as: Mini Vinnies, School Council and Eco-Club, in order to contextualise and deepen their learning as well as develop their skills of collaboration, communication, organisation and leadership and extend their understanding of our values curriculum and their ability to live out their faith in action thus making a positive contribution to their immediate, wider and global environment. Although each group represents our all of our school values, they can be best summarised as follows:
Mini Vinnies - Compassion & Kindness
At St Bernadette's, our Mini Vinnie group is made up of pupils across KS2. They come together weekly to form a part of the St. Vincent de Paul Society England and Wales, a voluntary organisation dedicated to tackling poverty in all its forms. When Mini Vinnies meet, we pray and discuss ways in which can to help make a difference in our communities.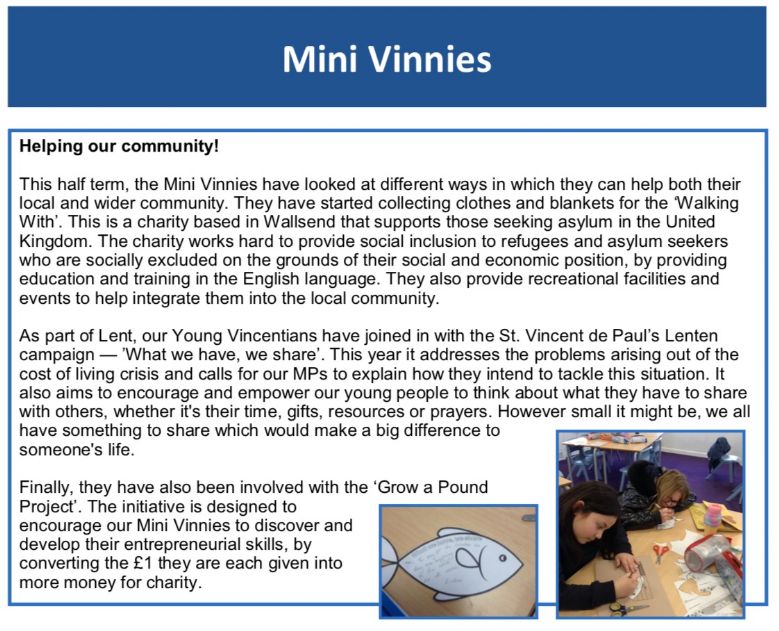 Our Mini Vinnies truly turn concern into action as they use the simple formula of 'see, think, do' to find people in need and help them. Ways in which we help our school and our community include:
Running food collections for our local foodbank
Providing calming boxes in each classroom in or school
Growing £1. We use our best entrepreneurial skills and try and turn £1 into something more. We do this through cake sales, setting up a beauty parlour sort staff and many more ways. The money we raise is donated between two of our chosen, local charities - Daft as a Brush (cancer care for local people) and Walking With (a food bank in our local area focused on supporting for refugees).
Litter picking at the Rising Sun country park
Working closely with our Eco Club to contribute to their quest to gain Eco school status
Working with our local Police so that we can find out what is happening in our community and decide how we might be able to help.
Supporting our Staff leaders, Mrs Collins and Mrs Calboutin-Walker in trying to achieve 'Sanctuary Status' for our school.
School Council - Justice & Courage
At St. Bernadette's, we believe that pupil voice is a huge part of what makes our school so great!
We endeavour to listen to the views of our children and involve them in the decision-making processes as much as we possibly can, as it engages our students and gives them the opportunity to make a positive contribution to both our school and local community.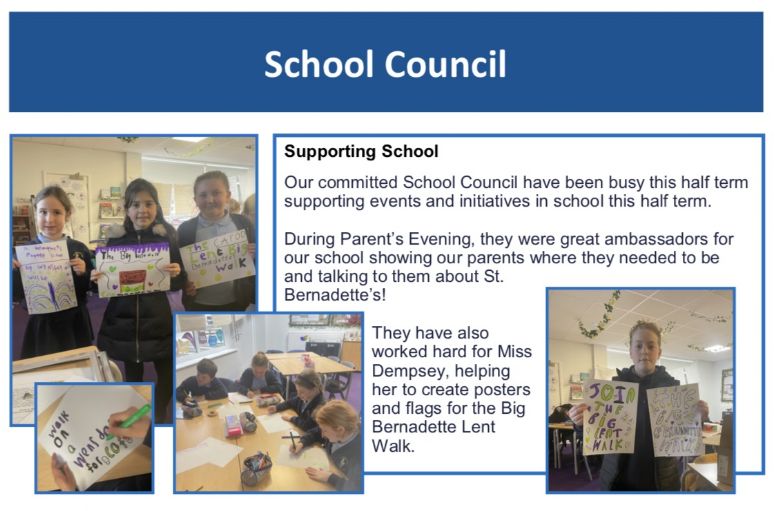 The students in our School Council were elected to represent the views of all pupils and work towards improving our school. They meet every week to listen, discuss, share their views and, where necessary, vote on actions that need to be taken. They help to make decisions about how the school is run and take on projects that support the children's learning and development, such as organising charity events, representing the school at various events or ensuring the school is environmentally friendly. They work in collaboration with both our Eco-Committe and Mini Vinnies to support and promote such initiatives in our school.
Eco Club - Stewardship & Humility
With the world beginning to experience the effects of climate change; different species of plant and animals becoming extinct every day; and micro-plastics being found in the most remote locations on Earth - now is the time to educate future generations about the impact of our actions on the planet we call home. As a school, we have therefore made the decision to work towards Eco-Schools Green Flag accreditation.
The Eco-Schools programme does this through providing a simple seven-step framework that has been designed to raise awareness of environmental issues whilst empowering young people to make a positive difference by taking a lead on environmental actions and projects in their school and local community.
Our St. Bernadette's Eco-Committee have chosen the following topics to focus on over the coming academic year - Healthy Living, School Grounds, Waste and Energy. Over the course of the year, they will decide what actions they would like to take and how they are going to involve our school and community. With these topics in mind, the children have developed the following ECO Code for our school: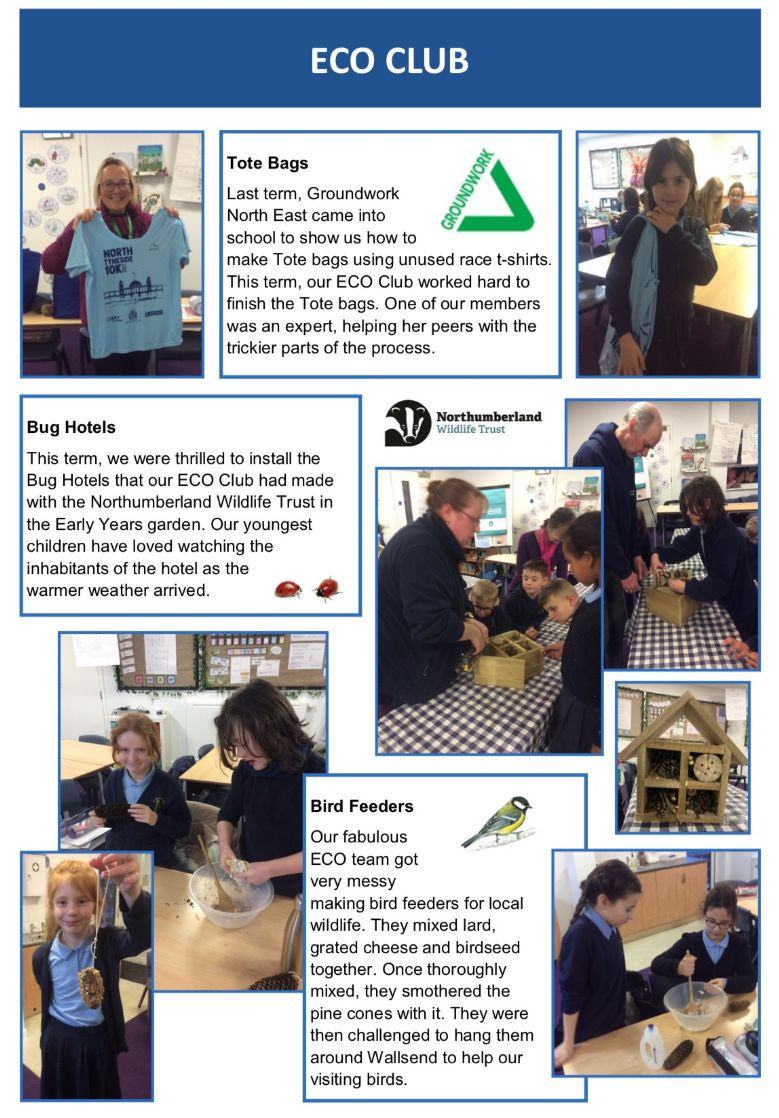 We will save energy

Drink lots of water, eat healthy food and exercise

Look after our environment

Plant fruit, veg and wildflowers

Use the right bins

Looking after one another

Everyone is important and works together
Look out for regular updates on our facebook page; invitations to participate in environmental events and projects; and increasingly conscientious young people!
If you would like to find out more about Eco-Schools Green Flag accreditation, please have a look at their website: https://www.eco-schools.org.uk/ Similarly, if you would like to contribute to our project, please contact one of our Eco-CoOrdinators, Miss Rogers or Mrs Chamley.